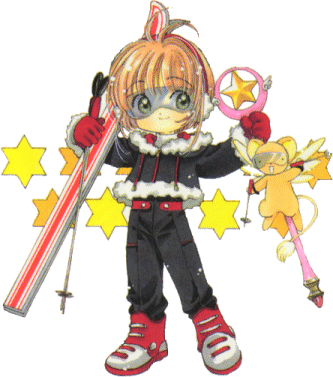 *Anime*

Sadly, the anime series has ended it's 70 episode run in Japan.
You can find some episode summaries at this site:
Rabi's CCS site

In August of 1999, the first Cardcaptor Sakura feature film was released! A short synopsis of the movie can also be found at Rabi's site. The second feature film was released in July in theatres in Japan!

The anime is available in the US. Nelvana Limited (a Canadian company) acquired the rights to the whole series, and has produced a dubbed version entitled "Cardcaptors." They have begun airing the show on Kid's WB. I have little to no information on this series. Please go to the official Cardcaptors site linked above. The dubbed series debuted on the Kid's WB this summer, to mixed reviews. Since I haven't seen it, I can't really recommend it. It plays on Saturday mornings here on the west coast, although my friend on the east coast says it plays on Sunday mornings there. I also ran across it playing weekday afternoons. Check your local listings.

To everyone's great delight, Nelvana released a statement saying that along with dvd's of the dub series, Cardcaptors, they also intend to release the original Cardcaptor Sakura series on dvd in a subtitled form.

*Update*
Finally! I got my hands on the first subtitled Cardcaptor Sakura dvd!!! I was so happy! I bought mine online, but I saw it in several stores in the mall, so it shouldn't be very difficult to find. Go out and get it!! There weren't too many extra features on the dvd, but all that matters is getting to see Sakura-chan in all her original glory.

I also found out that the first Cardcaptor Sakura movie has been bought for licensing over here. I don't know anything else yet, but I'll post more info when I get it.