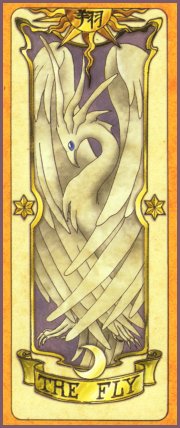 FLY!
Fly appears in both the anime and manga.

Sakura captures The Fly in manga volume 1. Initially, she attempts to use Windy to capture Fly, but it doesn't work. Sakura has a dream about Fly and she realizes that Fly has been hurt. Sakura uses Jump to catch it. When she finally catches Fly, she is able to take care of it. It looks like a very sweet bird once she has caught it, before she turns it back into a card.
In the anime, Fly is captured in the very first episode. Just before going to bed the night she met Kero-chan and became the card captor, Sakura had to run out in her kawaii pj's to catch Fly. She uses her only card, Windy to capture it, and then Kero-chan shows her how to use it! Sakura flies through the night sky, but someone is filming her....
Fly is a very useful card. It extends the wings on the end of the key and Sakura is able to use the key to fly anywhere she wants.