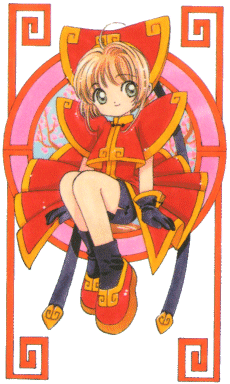 Manga and Art Books
The Japanese manga volumes are harder to come by if you don't have a Japanese bookstore nearby. ebay has them sometimes, and Firefly Animation carries as many as they can get a hold of. They come with a character card- a bookmark sized replica Clow or Sakura card, with artwork of one of the CCS characters. They will usually cost about $6. There are also now bilingual mangas published by Kodansha with text in Japanese and English. These volumes are very nice and typically cost around $13.
There are art books for the manga and anime. There are three volumes of the "Cheerio!" anime art books, which collect poster/shitajiki art, as well as cd cover art. There are also anime art books that cover the entire tv series as well as film books for each movie.
CLAMP has published three volumes of original art from Cardcaptor Sakura. They are gorgeous and worth the $30 or so that they usually cost. The third art book has just been released!
Ordering Information
Numbers you are going to need if you want to order these from a Japanese bookstore!
Manga
| | |
| --- | --- |
| Volume | ISBN # |
| 1 | 4-06-319743-3 |
| 2 | 4-06-319791-3 |
| 3 | 4-06-319844-8 |
| 4 | 4-06-319881-2 |
| 5 | 4-06-319924-X |
| 6 | 4-06-333954-8 |
| 7 | 4-06-333989-0 |
| 8 | 4-06-334049-X |
| 9 | 4-06-334099-6 |
| 10 | 4-06-334259-X |
| 11 | 4-06-334286-7 |
| 12 | 4-06-334326-X |
Bilingual Manga
| | |
| --- | --- |
| 1 | 4-7700-2644-7 |
| 2 | 4-7700-2645-5 |
| 3 | 4-7700-2740-0 |
| | |
| --- | --- |
| Art & Other Books | ISBN # |
| Cardcaptor Sakura Illustrations Collection | 4-06-324525-X |
| | |
| | |
| Cardcaptor Sakura Illustrations Collection 2 | 4-06-324531-4 |
| | |
| | |
| Cardcaptor Sakura Illustrations Collection 3 | 4-06-324534-9 |
| | |
| | |
| Clow Card Fortune Telling Manual | 4-06-334298-0 |