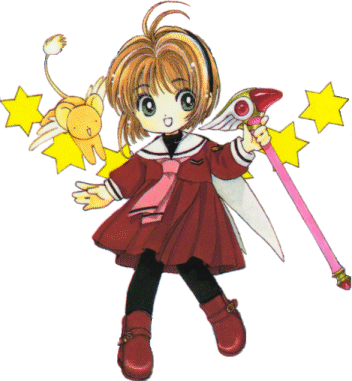 Stuffed Dolls
There are many UFO dolls. There are two lines of Sakura in her battle costumes, and one line of dolls including Tomoyo and Syaoran. These can also be found at almost all online sites, and also are prevalent on ebay. They are really cute!
But the very best, is the "Watashi no Kero-chan" or "my Kero-chan." He is big and beautiful, (and a little expensive...) and says something like 70-some phrases when you press his front paw. [Kawaii!!!] You can also record your own voice! You can record a phrase and Kero-chan will say it! Go here to download an mp3 of what he sounds like. (The file is named "watashinokerochan" and the share password is: sakura. You have to have an account at fds in order to share files.)
(There are also some smaller stuffed- or beanie type Kero-chan dolls that are not in the UFO style.)
**Update**
Recently some new stuffed Kero-chan's have been released! They appear to be made of a knit material. I have seen them in standing and sitting positions. It looks like you can pick these up for around $20. Also, I have just recently aquired a stuffed Spinel Sun!!!!!!!! in his energy saving "Suppi" form. He was more expensive, about $53. However, he may show up less expensive somewhere else later on. The only place that has them that I know of is US Anime. I haven't even seen them on ebay yet.